Despite the less-than-impressive performance over the last few months, Bitcoin investors are still digging their heels deeper into the digital asset. This is evidenced by the continuous rise in wallet activity that has been recorded during this time.
In a Tuesday post, on-chain data aggregator Santiment revealed that there has been a significant uptick in Bitcoin wallet activity despite the BTC price downtrend. Apparently, while the market had fluctuated heavily due to regulatory uncertainties, Bitcoin investors held their own, especially in terms of new wallet address activity.
The Santiment reports show fluctuations in this metric over the months. However, the one consistent thing was the tendency to jump back up even after dipping significantly. In September alone, the metric has moved from a low of around 860,000 to over 1.1 million unique daily Bitcoin addresses active.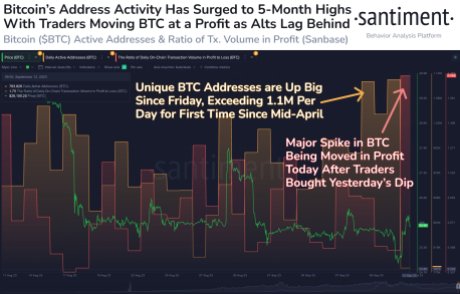 Interestingly, this figure is the highest this metric has been since April, proving that the BTC price downtrend has not served as a deterrent for Bitcoin investors. Rather, it looks as if investors are using the current low prices as a way to increase their footprint.
The uptick can also be explained by the euphoria triggered by asset manager Franklin Templeton filing for a Spot Bitcoin ETF. While the hype around the filing was short-lived, it triggered a brief uptick in the price of the digital asset, and likely aided the rising wallet activity rate as investors rushed to take advantage of the growth.
Even though wallet activity is up, the BTC price is still straining below $26,000. This could suggest that this metric does not really have much bearing on the price of Bitcoin. Rather, it just points to investors not slowing down usage of the network despite low prices.


Presently, investors are still eagerly awaiting a decision on the numerous Spot BTC ETFs that have been filed by fund managers. The outcome of these filings, whether rejected or accepted, will likely be the defining factor for the Bitcoin price going forward.
For now, there are no big moves to be expected for the digital asset, especially given the fact that it is still ranging below its 50-day and 100-day moving averages. Mounting resistance between $26,000-$27,000 suggests that Bitcoin might continue to trade sideways for the better part of September.
At the time of writing, Bitcoin is treacherously holding above $26,000 with meager gains of 0.64% in the last day.
Best Owie is a seasoned managing editor with a wealth of experience currently serving as the Managing Editor at NewsBTC. Best is a highly skilled professional with a track record of producing engaging and informative content. With a keen eye for detail and a passion for accuracy, Best is committed to ensuring that each article published meets the highest standards of quality. Best has over six years of experience in the crypto industry and has overseen the creation and publishing of thousands of articles over the years. When not curating engaging content, Best can be found reading a book with a cup of hot chocolate, enjoying a Netflix series, or exploring the outdoors. Best is a true professional in every sense of the word with an exceptional dedication to producing high-quality work.
NewsBTC is a cryptocurrency news service that covers bitcoin news today, technical analysis & forecasts for bitcoin price and other altcoins. Here at NewsBTC, we are dedicated to enlightening everyone about bitcoin and other cryptocurrencies.
We cover BTC news related to bitcoin exchanges, bitcoin mining and price forecasts for various cryptocurrencies.
© 2023 NewsBTC. All Rights Reserved.
© 2023 NewsBTC. All Rights Reserved.